General Information and Tips: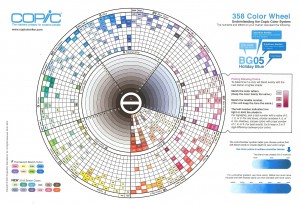 There are currently 358 Copic colors available. All colors are available in the Sketch marker.

Choose three markers; a light, medium and dark color to create shading on your image. Blending is easier with colors that are near each other on the color wheel, i.e., E31, E33, E35. This is referred to as "Natural Blending Groups"; colors that naturally go well together. These colors only have a brightness variation no saturation variation, therefore they will always coordinate. For easier, natural looking blends choose from the same group, i.e., keep the letter and first number the same and keep a 2 – 4 digit difference on the last number.

Examples:

YR12, YR14, YR16 / BV20, BV23, BV25
Blending dark colors tends to be easier with four or five markers, i.e., R20, R22, R24, R27, R29.
Blending with two or more colors is easier when the ink is wet. To ensure ink stays wet when shading, color only one portion of the image at a time. Blending can be achieved even after the ink is dry.

Shading can be achieved by using just one color. Lay down your first coat of ink allowing it to dry completely. Then lay down a second layer of ink where you would like the shading to appear. Let each layer dry completely before adding more ink. Repeat until you achieve the desired shade.

Black can be achieved by using a series of dark grays. Using dark grays will ensure that the image lines will still be visible and an understanding that the color is supposed to be black will be achieved. Examples using all four families of gray: (C5, C7, C9) – (W5, W7, W9) – (N5, N7, N9) – (T4, T6, T8)