ADHESIVES:
Glue Dots Adhesives have come out with the Micro Dot version (pink box).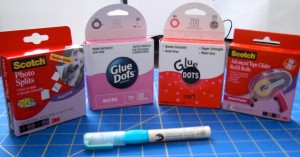 The dots are small enough to stick tiny beads and rhinestones to your project and are acid free. They work like any other Glue Dots product. Simply place your rhinestone on top of the glue dot and then onto your project.
Use a Martha Stewart ballpoint-tip glue pen to adhere small and/or intricate die cuts to your projects. The glue is easily controlled so it won't come out too fast and soak through your paper. The tip of the pen is small enough to add glue to fine die cuts including ones made with the Cricut machine. The glue is acid free, and therefore safe for your scrapbooking projects as well.
RUB-ONS:
An easy way to add sentiments to your projects is the use of Rub-ons. Dry-tansfer rub-ons are very easy to apply. Quotes, sentiments and verses are available and come in a variety of fonts and colors. Some brands come with their own applicator. Great for the outside as well as the inside of your cards.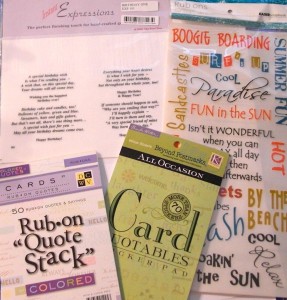 Another option is vellum sticker pads with card quotes.
Both kinds can be found online and at your local craft store. In a craft store, if they don't have a display of their own, both rub-ons and vellum sticker pads are usually hung at the bottom of the sticker display.
After cutting out your sentiment, place your rub-on exactly where you would like it to appear on your project. Use removable tape or small post-it-notes on the corners to keep it from moving while applying with a stylus. Be sure to rub over each letter individually.