Reviewed: Tombow Stamp Runner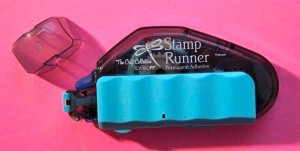 An adhesive applicator with a dual function of stamper and tape runner.
The stamping application applies an adhesive square precisely where you want it, eliminating the need for photo splits, tabs or dots.

By changing the position of the applicator, you can easily change from stamping application to tape runner.

Permanent Adhesive is photo-safe, acid-free and wrinkle-free.

The applicator has a protective cap that keeps the tape from sticking to everything in your drawer.


The runner is refillable with 40 feet of adhesive.
Drawbacks: I find no drawbacks with the Tombow Stamp Runner.
I give the Tombow Stamp Runner a "green" light. It is very easy to use, refillable, and feels good in my hand (not too big, small, or bulky. Refilling the applicator is a snap!
Reviewed: ArtBin Magnetic Die Storage Case and Magnetic Sheets
This storage case and magnetic sheets come highly recommended for those who use many different kinds of thin metal dies.

The case itself is translucent and holds 21 magnetic sheets when full. It has a handle and hinged lid with sliding locks. The purchase of the case gets you started with 3 magnetic sheets.

The case is thin enough to fit inside a rolling storage cart or desk drawer.

The magnetic sheets are thin and can hold any thin metal die. They are sold in packages of 3 and are cost effective.
Drawbacks: There are no drawbacks to the case or magnetic sheets.
I give the ArtBin Storage Case and Magnetic Sheets a "green" light. This item has been a huge space saver for me. It keeps all of my dies in one easy spot, organized and ready to go! The magnet is strong, I have never had any dies slip off a sheet. They are reasonably priced and worth every penny. They are now available in larger craft stores as well as online.